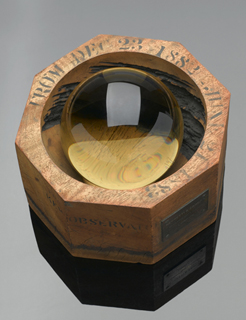 De (houten) Camper Stokes zonnerecorder werd in de 19e eeuw gebruikt in weerkundige observatoria om (globaal) de hoeveelheid zon te meten. Hierboven staan drie authentieke zonnerecorders afgebeeld. Het houten bakje kon een half jaar gebruikt worden: van 21 dec t/m 21 juni of van 21 juni t/m 21 dec. De zon laat een brandspoor achter per dag. Iedere dag zit het brandspoor net boven of onder het brandspoor van de vorige dag. Dit vrij eenvoudige meetinstrument is later verbeterd zodat je er een strook papier in kan leggen en dat elke dag vervangen kan worden voor een preciezere meting. Een aantal maanden geleden schreef Karel Knip in de NRC hierover. De meeste recente, digitale versie van het instrument om de hoeveelheid zon te meten schijnt slechter te werken dan de vorige.
LukasArt heeft Rien de Vos, meubelmaker in Amsterdam, gevraagd een replica te maken van de originele, houten zonnerecorder. Het is een schitterend werkstukje geworden, gemaakt van perenhout. Het voordeel van dit hout is dat de zon een mooi brandspoor achterlaat (als het goed is) zonder dat er gevaar voor brand is. De afmetingen zijn 90(b) x 90(l) x 50(h) mm. De diameter van de bol is ±48 mm.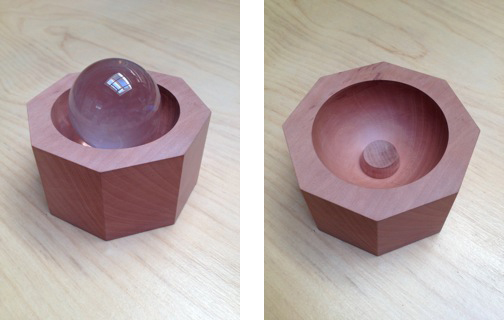 Het idee is om eens te peilen of hier mensen in geïnteresseerd zijn. De replica inclusief glazen bol moet rond de 100 euro kosten. Tegen een meerprijs kan er iets op het hout gelaserd worden, bijvoorbeeld een tekst of een datum. Het hele project kan doorgaan als er minimaal 5 mensen in geïnteresseerd zijn.
De zonnerecorder lijkt qua idee veel op een eerder project: solargraphy, fotograferen in een blikje. Zie eerdere posts of de site http://www.LukasArt.nl